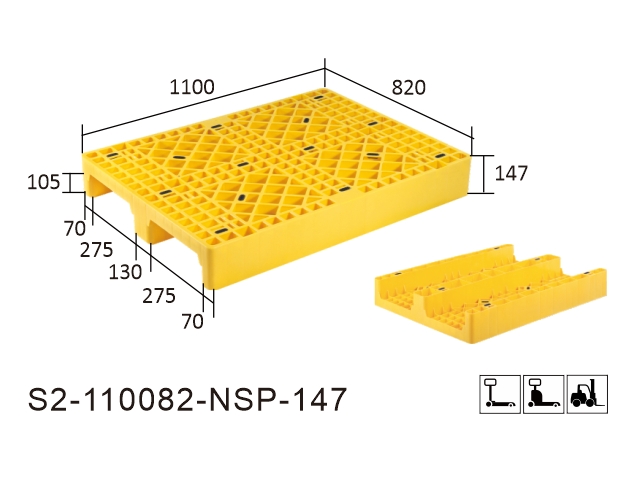 S2-110082-NSP-147
S-Type NSP Series
Description:
- 100% New Plastic Material
- Hygienic & Safe
- Durable
- Easy to clean
Fork way:2 ways Entry
Deck:Single Side, 3-Runner
Dimension:1100(L) x 820(W) x 147(H) mm 
The dimensions tolerance is ±3℅ .

Static Capacity:1,000 Kgs
Dynamic Capacity:700 Kgs

Quantity:
20FT:224 pcs
40FT:448 pcs
40HQ:504 pcs

Good with:
√ Hydraluc Pallet Forklift
√ Electric Pallet Forklift
√ Forklift
Fork way:2 ways Entry
Deck:Single Side, 3-Runner
Dimension:1100(L) x 820(W) x 147(H) mm 
The dimensions tolerance is ±3℅ .

Static Capacity:1,000 Kgs
Dynamic Capacity:700 Kgs

Quantity:
20FT:224 pcs
40FT:448 pcs
40HQ:504 pcs

Good with:
√ Hydraluc Pallet Forklift
√ Electric Pallet Forklift
√ Forklift
Our 100% new plastic S-Type pallet is stable, hygienic, durable, eco, and easy to clean, with excellent load-bearing capacity and resistance to humidity and low temperatures.
Application of S-Type plastic pallets:
Our plastic pallets are known for their versatile characteristics, making them suitable for a wide range of environments and industries, including automated warehousing, general storage, storage racks, electronics and optics, information technology, hardware and machinery, automotive and aerospace, freight transportation, cold storage and freezing, food and beverage, smart automation/cold chain logistics, retail channels, hospitals and healthcare, pharmaceuticals, chemicals and cosmetics, textiles, plastics and rubber, agriculture and aquaculture, manufacturing, import/export, and more, serving both profit and non-profit sectors.

These products are primarily used for product storage, handling, packaging cushioning, warehouse management, and logistics operations involving the movement of goods using pallets. Harlin specializes in using 100% new materials in production, ensuring suitability for low-temperature warehousing and transportation. For more detailed information on applications and specifications, please feel free to contact us.