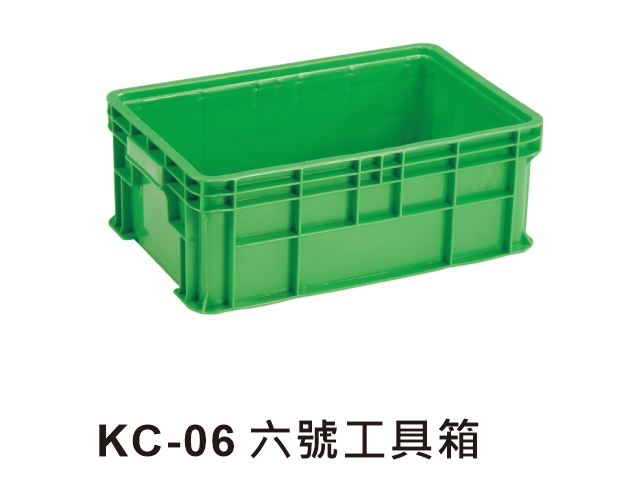 KC-06 Tool Crate
K/KC-Type
Description:
- 100% New Plastic Material
- Well Payload
- Various Spec.
- Durable
Dimension:
 I.D. 420 x 260 x 170 mm
O.D. 450 x 300 x 180 mm



The dimensions tolerance is ±3℅ .



Volume:18 L

Optional accessories for sale:
√ Transparent card holder
Dimension:  I.D. 420 x 260 x 170 mm
O.D. 450 x 300 x 180 mm

The dimensions tolerance is ±3℅ .

Volume:18 L

Optional accessories for sale:
√ Transparent card holder
Our K/KC-type plastic tool crates/boxes are available in various specifications, providing stability, hygiene, and high durability. They are made of 100% new plastic materials and are well-suited for factory and manufacturing operations.

Application of K-type plastic crates:
Our plastic crates and boxs are known for their versatile characteristics, making them suitable for a wide range of environments and industries, including automated warehousing, general storage, storage racks, electronics and optics, information technology, hardware and machinery, automotive and aerospace, freight transportation, cold storage and freezing of food, smart automation/cold chain logistics, retail channels, hospitals and healthcare, pharmaceuticals, chemicals and cosmetics, textiles, plastics and rubber, agriculture and aquaculture, manufacturing, import/export, and more, serving both profit and non-profit sectors.

​​​​​​​These products are primarily used for product storage, handling, warehouse management, assembly and processing of production operations (such as metal components, plastic parts, food ingredients, and other raw materials), and goods transportation in various crate and basket applications. They provide an ideal choice that meets hygiene and safety standards, with the added benefit of recyclability. For more detailed information on applications and specifications, please feel free to request a quote or contact us directly.